Welcome to HSK Offices
Office spaces, workplaces, meetingrooms: Work meets Life
Looking for a workplace where you feel at home? Or where you can expand your business and your network?
HSK Offices is the ideal place for entrepreneurs; modern spaces that you can arrange and furnish to your own taste and social spaces with a pantry for meeting, working and relaxing together. Because great things can happen when people come together. That is the base of HSK Offices: combining professionalism, hospitality and comfort with the opportunity to network and grow. Padded office spaces, workplaces and meeting rooms are available on various floors of the building. Find the space that suits you at HSK Offices! We offer spaces of all sizes: for starters, small entrepreneurs, or growing companies, from private office to large office where your workplace feels like home. Be inspired by the great view of our spaces and the cosy furnished & decorated social spaces, inviting tenants to meet and connect.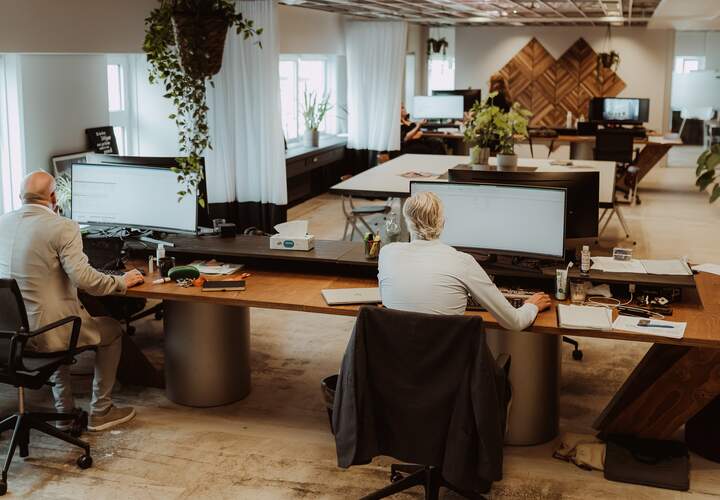 Inspiring workspaces
unlimited access to a shared social space on each floor
accessible networking opportunities
fiberglass internet and WIFI
flexible rent (rental term negotiable)
outstanding accessibility, public transport, train station and parking close by
The Hague city center within reach
fitness center, club, leisure and convention center in the building.
Interested in renting? 
Please contact our Asset Manager Rob
vibrant environment
Lots of opportunities around your new workplace
In 2022 the famous Club Atelier will open its doors at the entrance of HSK Offices. Club Atelier is a vibrant concept, a great meeting place for hipsters and all others with easy-going food and delicious drinks & cocktails and trendy events.
https://www.club-atelier.nl

The building also has a large Fit For Free gym and a unique climbing wall and all kinds of (team building) activities.
https://www.deklimmuur.nl

Recently, a new, large and inspiring convention center of 2000m2 has been opened by Postillion. 
Nearby there are shops,  restaurants and good hotels for our out-of-town visitors. The Hague University of Applied Sciences is just around the corner and the building is right next to Hollands Spoor. Since the lively center of The Hague can be reached within 10 minutes, there are plenty of facilities and cultural activities within reach.